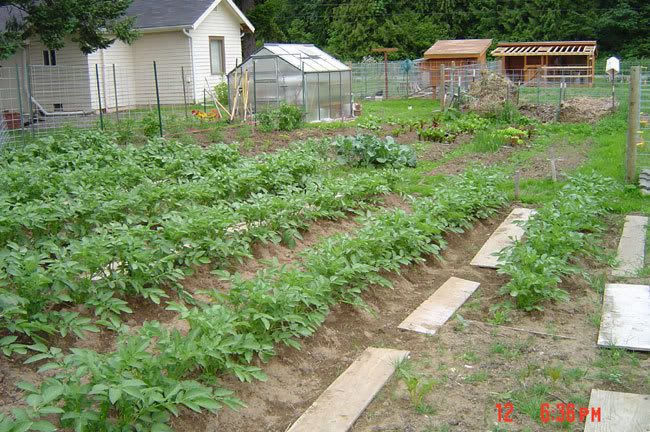 It sure didn't take long for the taters to reach for the sky! It's time to hill them for the 2nd time this weekend. Potatoes are kind of strange in that they set "fruit" in the dirt between the original seed potato, planted in hte spring, and the top of the hill. So as the plants grow, you have to hill up more dirt to give the taters a place to grow. The boards are serving as paths to keep the dirt underneath soft and fluffy so as to make hilling it easier. The scruffy patch in the foreground was supposed to be amaranth. It's an experimental crop for Seven Trees, and so far it's not too happy. I think I'll try some of the giant mangel fodder beets here next month.
Same garden, from the other side. Yummy chard, lettuce, beet greens & spinach are already making a regular appearance on the menu. The tomatoes are fairly happy, and I have high hopes for the peppers. Not in the picture are the beans, cukes and carrots. There is also broccoli, cabbage, onions and kale. Outside the main garden fence in the far upper left, is the squash pit - a 16 x 16 square with pumpkins, delicatas, potimarron (a French winter squash) and Inchelium Red garlic.
The greenhouse is empty but for the 5 watermelon starts. Hopefully the extra heat will be just the trick to grow this treat to full juicy ripeness! Next spring I plan to make full use of the greenhouse for starting more veggies. After comparing my in-ground seed starts with the ones the neighbor started in his sometimes-heated greenhouse, I realized that the extra head start can make a huge difference in terms of hardiness to heat and/or cold. Seems to be worth the trouble of running the bitty propane heater on chilly nights. The research continues!